VAG DSG Gearbox Tuning / Remapping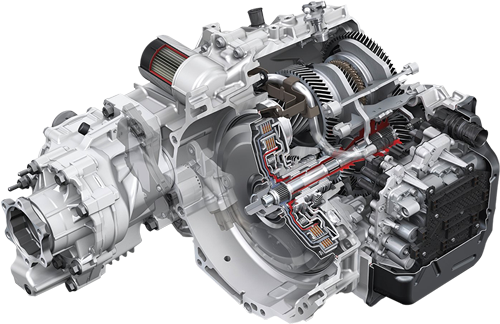 Arguably one of the finest automatic gearboxes to be made. Split second gear changes, silky smooth gear changes, able to predict the drivers next move… These are just some of the advantages the DSG transmission boasts. As with all OEM systems, they are restricted. Our custom tuning allows us to unlock your DSG transmission's full potential. Below are some of the modifications we make. A DSG remap is recommended when carrying out a stage 1 and 2 remaps on VAG vehicles.
DSG (Direct-Shift Gearbox) Transmission Types
A direct-shift gearbox (German: Direkt-Schalt-Getriebe), commonly abbreviated to DSG, is an electronically controlled dual-clutch multiple-shaft manual gearbox in a transaxle design, without a conventional clutch pedal and with fully automatic or semi-manual control. The first actual dual-clutch transmissions were derived from Porsche in-house development for their Model 962 racing cars in the 1980s.
In simple terms, a DSG is two separate manual gearboxes (and clutches) contained within one housing and working as one unit. It was designed by BorgWarner and is licensed to the Volkswagen Group. By using two independent clutches, a DSG can achieve faster shift times and eliminates the torque converter of a conventional automatic transmission.
There are a several variations of DSG's across the VAG vehicle range. Some DSG gearboxes lead themselves more to tuning than others. On most Audi models, the DSG is referred to as an S-Tronic gearbox. It can be quite confusing as the normal Torque Converter Autos are also sometimes called S-Tronic as well.
Benefits of Remapping Your DSG Gearbox
Increase torque limiters
We can increase the torque limiters of the gearbox to match that of the engine, meaning you are getting the full potential from both engine & gearbox.
Launch control
We can calibrate the TCU to activate launch control, get the perfect take off every launch and lower your ¼ Mile times or just add to the fun factor – (If applicable).
Faster shift speeds
We can improve shift time by up to 20%, improved acceleration and less lag, smother gear changes from both the paddle flaps and auto mode.
Shift set points & Raised RPM limits
RPM limits and shift set points can be adjusted in drive and sports mode. Adjusting the rpm limiter as part of the engine ECU remap is not enough on a DSG equipped vehicle.
True manual mode
This allows us to calibrate the TCU to allow you to have full control on when the DSG changes gear, no unwanted up/downshifts.